Card 1: The Magician
Robin Williams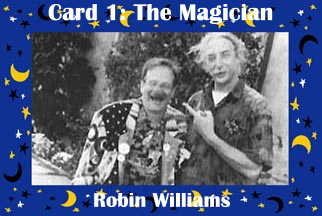 "Robin Williams and Patch Adams, 1997: A Matched Pair?
Photo by Ben Stechschulte"
Robin Williams as the Magician is a Level Two archetype: we believe this man can do anything, and do it with style, grace and glorious good humor. He is skilled, strong, complete, superb.

The Hero's Journey is a life cycle from Fool to Magician. It is Dorothy in the Wizard of Oz; it is Luke Skywalker, going from farmboy to Jedi Knight. Everyone starts out a Fool, but not everyone manages to become a Magician.

Once you do become a magician, you start the journey all over again, this time at a higher level.